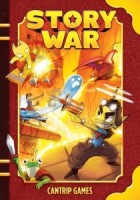 Story War
What is Story War?
Story War is a party game where you battle your friends by telling stories, referencing pop culture, and making stuff up!
Take on the role of classic creatures like a Vampire or Medusa and try to convince a player acting as a judge that your character could beat your opponent's character in a fight!
Every card features unique artwork and a hilarious description, but your cards are only as powerful as the stories you create for them!
Add a Review for "Story War"