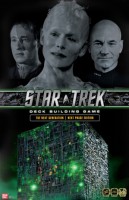 Star Trek Deck Building Game: The Next Generation – Next Phase
This is a standalone expansion to the Star Trek Deck Building Game series so you can play with this by itself or combine it with the Premiere Edition for a richer experience.
You are the Captain of a small Starship with a standard crew and basic weaponry. Will you use your crew's experience to improve your ships systems or to recruit more experienced crewmen to your ship? Will you form diplomatic relationships or conquer civilizations in battle? Build your deck and explore the Star Trek universe!
Play these different scenarios or create your own!
Free For All Exploration – Explore the universe, interact with alien races, complete missions and experience the mysteries of space. Gain knowledge and power to become a legendary Captain!
Teams Reunification – Team-up and determine if you are in favor of peace or war in the Alpha Quadrant! What will be the future of the Federation?
Co-op Borg Invasion II – "I am the Borg." This time the Borg Queen has arrived to assimilate planet Earth! Work with your fellow players to defeat the Borg and the Queen.
Bandai has released some
great videos
that introduce you to the
Star Trek Deck Building Game
. Check them out on our game page for
Star Trek DBG: The Next Generation >
Add a Review for "Star Trek Deck Building Game: The Next Generation – Next Phase"