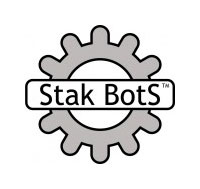 Stak Bots
Stak Bots is a versatile vertical battling card game; use your Stak of face-down cards to reveal and destroy your opponent's Bots in a fun and slightly chaotic strategic battle.
Each Bot has its own strengths and weaknesses in the game and you must combine attacks with playing and scrapping cards to take advantage of these. Some Bots have instant effects that occur when they are played or revealed, which can in turn trigger more Bots to create exciting chains.
Customise the game: play it simply and casually using a shared pack, or add more rules, more Staks, more Bots or even get into deck-building.
Add a Review for "Stak Bots"