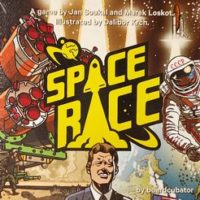 Space Race: The Card Game
SPACE RACE: THE CARD GAME
A game by Jan Soukal and Marek Loskot. Artworks by Dalibor Krch.
The world struggles in the Cold War, and many see the sky as the next battlefield. The era of the space sace has just begun. Do you have what it takes to lead a budding space agency into a new age of human achievement? Space Race: The Card Game is an indie card game in which 1-4 players become directors of space agencies trying to conquer the universe. The game is fast, yet complex and strategic, based on synergies and combo construction. The rocket is ready to launch, Mr. Director! Will you start the countdown?
Add a Review for "Space Race: The Card Game"