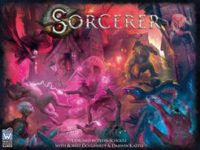 Sorcerer
Sorcerer: A Strategy Card Game
Sorcerer is a 2-4 player dark fantasy game from the creators of Star Realms. This new character building game combines the best elements of a strategy card game and a tactical board game to create a whole new play experience!
At the start of the game, each player will create a unique sorcerer by combining one of the 4 Character Decks (which shows who you are) with one of the 4 Lineage Decks, (which represents the style of magic you inherited) and one of the 4 Domain Decks (which reveal where you honed your magical powers).
Shuffle those cards together to form your Grimoire, which contains your dark magic and evil minions and you are ready to play!
Each deck also comes with a skill card. Together, they show your true name. For example, you might be Ariaspes the Demonologist of the Outcast Sanctuary.
Add a Review for "Sorcerer"