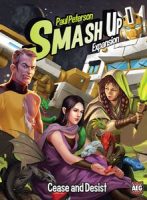 Smash Up: Cease and Desist
Cease and Desist is a stand alone expansion to the Smash Up core set. It is a fully operational battle station for 2 players though!
These rules sometimes talk like you've got more than just four factions, or mention cards that aren't in this expansion. If you don't already have the other sets, just think of it as viral advertising.
Smash Up: Cease and Desist brings you some of the coolest new factions that are TOTALLY not anything at all like some awesome movies and TV shows that we are really into. Not at all!
Astroknights
Use the power of the Fours to defeat your enemies. Beware traps. Shoot first.
Star Roamers
The Star Roamers move about space, teleporting your minions from one quadrant to another. They are on a multi-year mission to seek out new fun, explore strange new combos and put ridiculous numbers of redshirts in mortal danger.
Changerbots
Changerbots can transmorph into various forms, with new abilities and strengths. They're in disguise. And they're robots. And possibly small electrical appliances. But whatever – they're IN DISGUISE!
Ignobles
The Ignobles fight over the king's seat, but don't trust any of them! They pay their debts, and wait for winter (seriously, we hope winter hurries up already). And when you least expect it – RANDOM DRAGONS! Because everything is better with dragons.
Add a Review for "Smash Up: Cease and Desist"