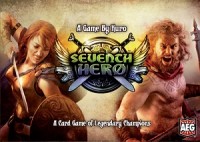 Seventh Hero
When evil rises, seven heroes will join to oppose it!
The Prophecy of Kear has long warned of Maedoc the Corruptor's return. The inhuman, malevolent entity known as Maedoc seeks to twist the hearts of men to his will and reshape the world in his own warped image. Now Maedoc has awakened from this millennial slumber, and will once more stretch his dark hand upon the earth. But the Prophecy also speaks of seven heroes who will defeat Maedoc. These brave souls are bound by destiny to uncover the Corruptor's plots, seek out his lair, and put an end to his schemes. Across the land, those who know of the Prophecy are presenting themselves as heroes of legend – and Maedoc's minions pose as heroes in order to find the true seven and eliminate them.
The deck in Seventh Hero consists of cards numbered 1 to 7, each number representing a different hero. During the game, players will send cards around, face down, with some hints to what card it is. Players take turns choosing whether to recruit the hero or pass. The player who has six of the seven heroes immediately wins the game, otherwise the player with the most heroes when the deck runs out of cards wins.
Add a Review for "Seventh Hero"