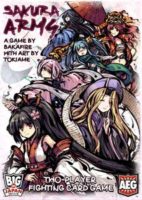 Sakura Arms
Face Your Opponent With Sakura in Your Hands!
Sakura Arms is a two-player fighting card game, where players control the powers of the "megami." These megami are channeled through the delicate petals of the Sakura tree. Choose two megami each game to create combinations of powers. Defeat your opponent and prove you are the most powerful fighter! Sakura Arms is an elegant game from Japan, designed by Bakafire. The game has already become hugely popular in Japan with tournaments and an online game in the works. Featuring stunning art and design, the game is both easy to learn and incredibly challenging. Place the petals on your hands and face your destiny!
Add a Review for "Sakura Arms"