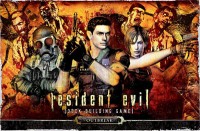 Resident Evil DBG: Outbreak
In Resident Evil, a deadly virus has caused the dead to rise and infect any living thing they encounter! Fleeing to a mysterious mansion, you must gather any materials you can find to protect yourself and fight for your survival against a legion of infected beings!
The RESIDENT EVIL DBG brings the story to life in a game of strategy where players construct their cards decks while they play. Choose to play as one of your favorite characters from RESIDENT EVIL and start with only the most basic of items and weapons. As the game progresses, players build their arsenal with additional Weapons, Ammunition, Action or Item cards to customize their deck and improve their ability in defeating "the Infected"! Your deck will be your lifeline to survival. How will you survive the zombie outbreak?
RESIDENT EVIL DBG: OUTBREAK is an expansion set that can only be played with either the first Resident Evil DBG or Resident Evil: Alliance.
The new OUTBREAK Mode, puts the players in danger of turning into the Infected themselves. New characters such as Kevin, Ryman, David King and Mark Wilkins will help you while you're alive. However, life doesn't end as an Infected as you can rise from the dead and attack your fellow players as new Infected Characters and Infection Cards!
Add a Review for "Resident Evil DBG: Outbreak"