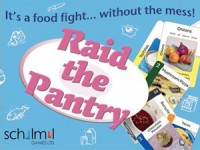 Raid the Pantry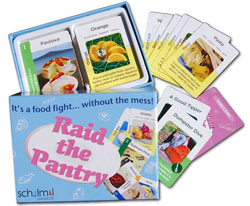 Raid the Pantry is a colourful cooking-themed card game for two to four players.
The knives are out as you collect ingredient cards to assemble enough dishes to reach the winning score. This unique game will find you resorting to haggling, theft and even dumpster diving to create your tasty triumphs and sabotage your sneaky competitors!
The game features dishes from more than a dozen countries and cuisines — everything from Manhattan clam chowder and huevos rancheros to veal marsala and Chinese dumplings — as well as fun and original action and ingredient cards.
Raid the Pantry can be enjoyed by anyone age eight and up. You can play as individuals or in teams of two. A typical game takes 20-30 minutes: enough time to work up an appetite for that Sunday dinner.
Add a Review for "Raid the Pantry"