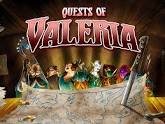 Quests of Valeria
In Quests of Valeria you play the role of a Guild Master, recruiting and dispatching Citizens to complete quests posted in a tavern in the Capital City of Valeria to earn Victory Points. The player with the most Victory Points at the end of the game wins.
Quests of Valeria is a unique set collection game where players gather Citizens to fill requirements on a Quest. Hire Citizens from the line in the Tavern that provide you with additional actions to build combo's of free actions!
Add a Review for "Quests of Valeria"