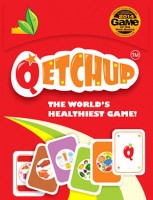 Qetchup
The world's healthiest game! Each game turn plays in three simple steps:
1. If you wish, you may draw a card. It's often smart to not draw a card unless there's a certain one you need - since you can't win until you've played or discarded all the cards in your hand.
2. In step two you can either play or discard a card. You can play some healthy food in front of you, or some junk food in front of another player if you think they might be about to win. In order to win, you must have one of each of the food groups represented on your "plate", have no junk food in front of you, and have no cards left in your hand.
3. If you meet all those conditions, you win!
Awards
The Toy Man eco-Recognition seal
The Toy Man Mom's Approved Award
Tillywig Sterling Fun award
Creative Child 2014 Game of the Year Award
Add a Review for "Qetchup"