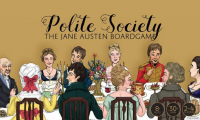 Polite Society: The Jane Austen Board Game
Bringing all your favourite Jane Austen characters to life, in Polite Society players compete to collect guests to complete their ultimate dinner party table.
From Elizabeth Bennet to Emma Woodhouse, every Janeite can now welcome their much-loved heroines, heroes, unwanted suiters and overbearing relatives to their dining table using societal assets - wit, wealth, heart and beauty.
The better the seat at the table, the more likely the character will generate assets each turn. The first player to complete their dining table wins. Each of the cards has a unique quote from one of Jane Austen's full-length novels - Emma, Northanger Abbey, Persuasion, Pride and Prejudice and Sense and Sensibility - or from Jane's personal letters. Polite Society is a board game for lovers of literature and simply lovers of games.
While Janeites definitely will get a kick out of having Darcy sit at their dining table, anyone can play Polite Society. No knowledge of Austen or her works is required to play (or win). It's a fun game for all!
Add a Review for "Polite Society: The Jane Austen Board Game"