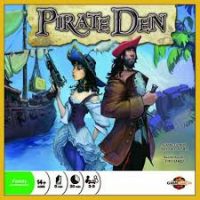 Pirate Den
Pirate Den is a pirate-themed bluffing game for 3 to 5 players ages 14 and up that plays in less than 30 minutes. It's ideal for casual gamers looking for a fun time as well as deeper strategy players looking for a quick filler. Adding rum to the mix makes for a great evening of gaming with a truly fun and engaging pirate theme!
It's the golden age of sail and each player takes on the role of legendary pirate captains plundering the seas. The British East Indies Company, the Dutch East Indies Company, and the Spanish-Portuguese Empire are sailing the high seas heavily laden with cash from their colonies. They're easy pickings for a famous and daring pirate like yourself! The trick is that while pirates can plunder ships at sea, they can also steal from other pirates. This exciting dynamic makes Pirate Den an addicting game of greed and betrayal.
Add a Review for "Pirate Den"