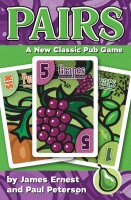 Pairs

Pairs is a new card game by James Ernest and Paul Peterson. It's simple, fast, and fun. And there are many different styles of art to choose from, thanks to many amazing artists and a very successful Kickstarter campaign!
The Pairs deck contains only the numbers 1 through 10, in a triangular distribution (1x1, 2x2, 3x3, and so on up to 10x10). The basic goal of Pairs is to avoid getting a pair. Your odds will depend on what cards you hold, and which cards you have seen! Scoring pairs earns you points, and the first player to reach a target score is the loser.
Add a Review for "Pairs"