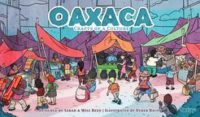 Oaxaca: Crafts of a Culture
Among the many reasons Oaxaca (pronounced WA-HA-KA) is well known are its exquisite handicrafts. Drawing upon generations of tradition, as well as vast quantities of raw materials, many artists within this state in Southern Mexico dedicate their lives to perfecting their craft.
In Oaxaca: Crafts of a Culture, you and up to three friends assume the role of skilled Oaxacan handicraftsmen preparing to craft and sell art at a bustling tianguis in Oaxaca City. Will you reach a distinguished position with your exquisite craftsmanship, or are your crafts common for the culture?
Add a Review for "Oaxaca: Crafts of a Culture"