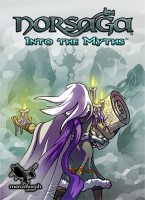 Norsaga: Into the Myths
Norsaga: Into the Myths is an expansion for the Norsaga card game which adds unique new heroes to the mix. Shuffle these new cards into the base game in various combinations for a fun new play experience that takes the strategy and storytelling of Norsaga to the next level!
16 additional basic heroes - Featuring new characters and art of Kickstarter backers, all in the Norsaga style!
12 fae - New attack cards representing wild, supernatural characters.
8 wanderers - Travellers with multicolored recessive traits which must be played immediately or discarded.
4 apprentices - Young heroes lacking dominant traits, whose gift for learning lets you play extra cards.
4 legends - Ancient warriors capable of expressing any dominant trait, but who quickly grow set in their ways.
2 hybrid skalds - These heroes combine other card types with the skald ability for exciting new combos.
Upgrade your story with 46 new cards, including legends, fae, apprentices, wanderers, additional basic heroes, and hybrid skalds. You can mix and match cards with the base game depending on your playstyle.
Want a milder experience? Swap out ghosts for the new fae heroes.
Trying out an epic 6 player game? The additional basic heroes and the wild traits on legends and wanderers provide enough traits to give everyone a chance.
Live for combos? Mix in new apprentices and hybrid skalds to crank up the possibilities.
Or go big and toss it all in!
Add a Review for "Norsaga: Into the Myths"