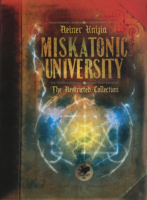 Miskatonic University: The Restricted Collection
Set in the treacherous and terrifying Restricted Collection of Miskatonic University's Orne Library, the game features grimoires, elder signs, academic politics and madness — and that endlessly renewable resource, graduate students! We hope you'll join us on our journey by supporting this Kickstarter and make the Miskatonic University game a reality!
The game is a quest. An extremely dangerous quest. Dr Henry Armitage, Chief Librarian, needs you to search the perilous Restricted Collection for fragments of lore from among the grimoires, and recover pieces of a particular sigil. It all began when, as leading scholars at Miskatonic University, you were gathered together to discuss who would be awarded the coveted position of Head of the Library Committee. Suddenly tragedy and horror struck—a monster had been unleashed, presumably by some foolish graduate student! Dr. Armitage leapt into action and asked for your help. He needs you to gather the necessary tools to banish the foul abomination. You explore the Restricted Collection for the grimoire fragments and sigils he needs. However it is a perilous journey and you must be prepared to flee before you are driven mad! The victor is the professor who finds the most sets, while retaining a semblance of sanity. Also, look out for hapless wandering graduate students as they can aid in your defenses!
Add a Review for "Miskatonic University: The Restricted Collection"