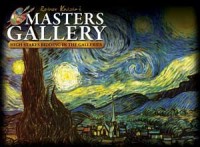 Masters Gallery
In Masters Gallery, players are art critics and gallery owners. Each has his own favorite artist in this pantheon of greats—at least until the game begins. The cards in this game feature 30 of the most beautiful pieces of art ever created by Van Gogh, Renoir, Monet, Degas and Vermeer. Over the course of four rounds, players use these cards to establish the relative value of each artist's body of work. While values are determined by playing each artist's cards, the best scores are awarded only for the cards that remain in the players' hands. Revel in the beauty of Old Masters' art, while enjoying the intriguing game of Masters Gallery.
Note: Masters Gallery has the same game play as Modern Art: The Card Game.
Add a Review for "Masters Gallery"