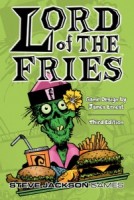 Lord of the Fries (3rd Edition)
Welcome to Friedey's, the Fast Food Restaurant of the Damned!
Our whole staff is dead, and we're really short on brains. But we'll do our best to fill your order! Even a horde of nearly mindless zombies can assemble combo meals. Sort of.
And now you're one of us. Combine frighteningly generic ingredients like Cow Meat, Sauce, and Drink. Play from eight different menus, including Ratherbee's Steakhouse, the classic Friedey's Restaurant, and the new McPubihan's. Build orders like Bovine Spongiform Yum, Yum, Yum!, Penne for Your Tots, Synaptic Relay Deteriorator, and Sheep wit' da Fishes. But be quick – the customer is waiting!
Whoever fills the best orders gets the most points, and the zombie with the most points becomes... The Lord of the Fries!
The third edition of the classic Lord of the Fries includes large, full-color menus, a new restaurant, 8 alternate decks designed for 3-to-5-player games, color-coded dice, point tokens, and a timer.
Add a Review for "Lord of the Fries (3rd Edition)"