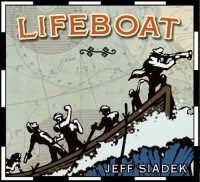 Lifeboat 4th ed.
You are one of six characters adrift at sea, sharing an Edwardian lifeboat with your most beloved friend, your worst enemy and a few other shifty characters. Each turn, you'll take an action (row, change seats, mug somebody, use a special card or do nothing). At the end of the turn, a Navigation card will reveal who goes overboard and/or gets thirsty. If it shows a bird, you're getting closer to land. The game ends immediately when 4 birds have been sighted.
Originally published in 2002. This 4th edition was published in 2010.
Add a Review for "Lifeboat 4th ed."