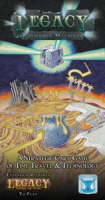 Legacy: Forbidden Machines
In the world of Legacy, the course of history is maintained by the operators of the Ancient Machine, fueled by mysterious forces. As an Antiquitect, the machine binds you to the present while you travel back through time to ensure the technological advancements of the world remain intact.
The dark energy fueling the Ancient Machine, called Vesper, is growing out of control; eroding the timeline and causing it to crumble faster than ever. Restoring balance is imperative, to do so the Antiquitects must break their oath and create the Forbidden Machines; powerful contraptions they were sworn to never bring into existence!
Experience the rise of powerful new technologies in Legacy: Forbidden Machines.
Legacy: Forbidden Machines uses all the familiar rules and components from Legacy: Gears of Time and includes a new set of technology cards, many of them introducing the Activation mechanic. Players with the most influence over these technologies can activate them once during their turn to perform powerful game effects such as drawing extra cards, swapping influence cubes, gaining an additional turn, and many more! Several of the fundamental technologies introduce When Established game effects, giving a little boost to hatching your time travel plans when these technologies are established.
Add a Review for "Legacy: Forbidden Machines"