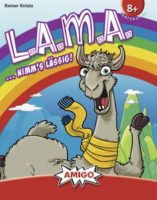 L.A.M.A.
The motto of L.A.M.A. is: Discard All Negatives. Every turn you try to discard, otherwise you will get negatives. If you cannot take anything, you decide to pass or to draw a (hopefully good) card.
You get minus points in the form of chips. If you manage to get rid of all your cards, you can return a chip. And that may be one of value 1 or value 10. At the end, the player with the least negative points wins! L.A.M.A. is a funny and accessible card game with very simple rules! L.A.M.A. stands for discard all negative points in Dutch (Leg Alle Minpunten Af) and German Lege alle Minuspunkte ab
Add a Review for "L.A.M.A."