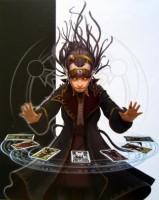 Koryŏ
A game lasts exactly eight turns, and on each turn a family grants its specific power to the player controlling it. Thus, efficient handling of these powers is the key to success! While their influence increases turn by turn due to the number of authorized cards in their council, the number of cards drawn each turn dwindles, making choices all the more difficult.
Play cards to control a majority and hold sway over the factions of Koryŏ. Short-term decisions mean long-term gain in this fast and exciting card game of politics and betrayal.
Players will play cards to maintain majorities of specific factions, and in so doing gain the powers provided by their followers. Control the bankers to grab influence now, or take over the guardians to protect yourself from the barbarians. Every decision is tricky, as you jockey to maintain majorities and hold the most power.
Add a Review for "Koryŏ"