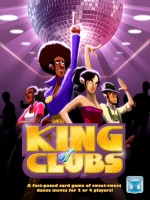 King of Clubs
The air in the city is electric as the hottest nightclubs host evenings of intense dance competitions. You're the manager of the best new dancers on the scene, ready to show off your team's sweet-sweet moves. Winning at a nightclub will earn your team prestige for the night, most prestige wins a point. Win five nights of dancing to be crowned the King of Clubs... but to earn your points, you have to dance!
King of Clubs is a fast paced battle of wits for 2 or 4 players. Each player has an identical set of cards to play with; bluffing, deception and reading your opponents play style are keys to victory. The gameplay is simple, but the strategy is deceptively deep.
Add a Review for "King of Clubs"