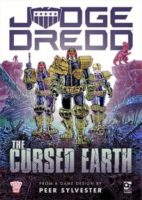 Judge Dredd: The Cursed Earth
For years he's been the law in Mega City One, but now it's time for Judge Dredd to bring justice to the rest of America. It's time for him to venture into the Cursed Earth.
Featuring competitive, co-operative and solo player modes and specially commissioned artwork from Dredd artists Rufus Dayglo and Dan Cornwell, Judge Dredd: The Cursed Earth is an immersive sci-fi western in which players must lead a team of judges against dinosaurs, mutants, and the Cursed Earth itself to hunt down a dangerous man who has fled the city, before a gang of criminals can get to him first. As they scour the wastelands, the team will encounter a host of classic 2000 AD characters that will push their resources and abilities to their limits.
Fans of The Lost Expedition will find entirely new cards and new mechanics like radiation tracking and psychic abilities, while fans of Judge Dredd will find a new interactive story developed alongside 2000 AD.
On an impossible journey through radioactive hell, can even the judges survive the Cursed Earth?
Add a Review for "Judge Dredd: The Cursed Earth"