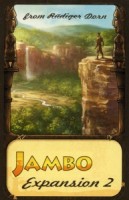 Jambo Expansion 2
The 2nd expansion contains 3 separate modules, which can be combined in many ways with the basic game and the first expansions:
New Wares and Encounters
The Fourth Hut
The Carpet
These are expansions to Jambo, and cannot be played without the basic game. These expansions can be played together or separately with the basic game and with any of the first 3 expansions!
Add a Review for "Jambo Expansion 2"