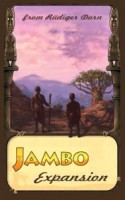 Jambo Expansion
The expansion contains 3 separate modules, which can be combined in many ways:
New Beginnings adds 40 new utility, people and animal cards, providing players with new elements to keep the game new and exciting.
The Three Huts add 3 new huts for each player to use throughout the game, giving each additional options on each turn.
The Relic adds 4 cards, which offer players an additional way to win the game.
These are expansions to Jambo, and cannot be played without the basic game. These expansions can be played together or separately with the basic game for more fun than ever before!
Add a Review for "Jambo Expansion"