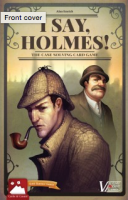 I Say, Holmes!
"Come, Watson, come!" he cried. "The game is afoot." - Sherlock Holmes, The Adventure of The Abbey Grange
Don your deerstalker hat and cape for I Say, Holmes!, a card-driven romp through Victorian England that has you trying to come out on top of a Sherlock Holmes investigation. Some rounds you'll be playing the Great Detective himself as you attempt to arrest the villains, while other times you will be one of the criminals (from Colonel Moran to Professor Moriarty) trying to escape Holmes' grasp.
The first edition of I Say, Holmes! was named one of Toys Bulletin's Best of 2013, and this new version features completely new art alongside custom-shaped, laser-cut counters; we've brought all of our expertise to bear on making I Say, Holmes! into one of our most stunningly beautiful games yet.
Add a Review for "I Say, Holmes!"