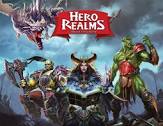 Hero Realms
The Hero Realms base game, like Star Realms, combines the fun of a deckbuilding game with the interactivity of trading card game style combat. Each player starts with a ten-card personal deck containing gold (for buying) and weapons (for combat). Each turn you get a new hand of five cards from your personal deck. When your deck runs out of cards, you shuffle your discard pile into your new deck.
Shared between all players is an 80-card Market Deck. The game begins with five cards from that deck revealed, creating the Market Row. As you play, you use gold to buy champion cards and action cards from the Market. These champions and actions can generate large amounts of gold, combat, or other powerful effects. You use combat to attack your opponent and their champions. When you reduce your opponent's score (called health) to zero, you win!
Add a Review for "Hero Realms"