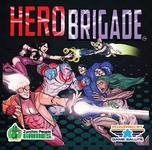 Hero Brigade
Deck-building and card-battling in the same game together? With a heroic theme, no less, and artwork from exciting new talent? Yes, please!
Two players will sit down and play a duel, one as the Heroes and one as the Villains. They will place characters in their Party and fight against the opposing side. While they do so, they will compete for cards from the shared Resource Deck.
Players familiar with both deck-building and card-battling games will be familiar with some of the core mechanics, but Hero Brigade offers its own spin on things! Card drawing can be dangerous in this game, as you permanently lose cards from your deck each time you reshuffle! Each character card can also be played in three different ways, depending on where they are placed in your Party and whether or not you utilize them for a one-time Play effect instead!
Hero Brigade is a fast-paced combination of fun and strategy! You should always have a meaningful choice!
Add a Review for "Hero Brigade"