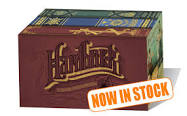 Hardback
From the creators of the bestselling game, Paperback, comes the next chapter in deckbuilding / word games - Hardback. As an aspiring, 19th-century author, you work to write your next novel, earning money and prestige along the way. Spend your coin on new, more powerful cards to improve your deck and write ever better novels. Be the first to acquire enough prestige to complete your masterpiece and be recognized as the finest novelist of the age!
Play as Penelope Quill - Paige Turner's great-grandmother, writing novels in the 1800s
All new illustrations from artist Ryan Goldsberry brilliantly capture the era - with some clever twists
Wordsmiths can score big by discovering the perfect word from their hand of randomly drawn cards
Strategic players can maximize the benefit of their cards by carefully crafting the perfect deck
Add a Review for "Hardback"