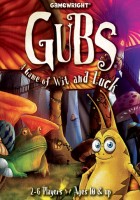 Gubs
Meet The Gubs!
A secretive bunch, Gubs hide from danger within hollow tree stumps and forest underbrush. They are a peaceful folk. They spend their days building up cities of mushroom homes and traveling about upon Velvet Moths or Toads in search of valuable Lure treasures. But their world is full of hazards, each more deadly than the last, and only cleverness and luck can see them through. This is the ongoing struggle of the Gubs.
Play The Game!
The Gubs card game is a game of wit and luck. With a single Gubs deck, up to 6 players of ages 10 and up can enjoy a fast-paced, hilarious game filled with all sorts of creative card combos.
To win, you must be the player with the most Gubs when the game ends. Easy to learn and to play, Gubs is an amazingly replayable game with new strategies just waiting to be discovered!

Add a Review for "Gubs"