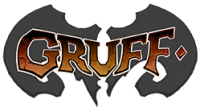 Gruff
Gruff
is a tactical game about mutated monster goats! It's an evolving card game that combines the blow by blow pacing of a fighting game with the positional elements of tabletop strategy games. In
Gruff
you take the role of a shepherd that has used banned science and foul magic to create a team of meanest, weirdest, and fattest goats the world has ever seen. You're out looking for a fight. Crush any shepherd that stands in your way and be victorious!
Players choose from a wide variety of Mean, Weird, and Fat Gruffs to create the perfect team. Mutate your goats, thwart barrages, and unleash crazy attacks to break through the enemy's defenses. Defeat the opposing Shepherd and be victorious!
Add a Review for "Gruff"