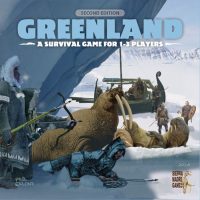 Greenland (2nd Ed)
The three players represent the Tunit (green), Norse (red), and Thule (yellow) tribes fighting to survive in Greenland in the 11th - 15th centuries. Each tribe sends hunters to gather food and fuel to support their children, elders, and livestock while collecting victory points by wiping out competing species or gathering resources. Historically, the climate turned frigid and all but the Thule (Inuit) died out.
Greenland can be played as a stand-alone game or as a companion game to Neanderthal.
Add a Review for "Greenland (2nd Ed)"