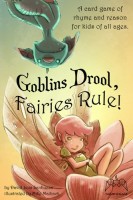 Goblins Drool, Fairies Rule!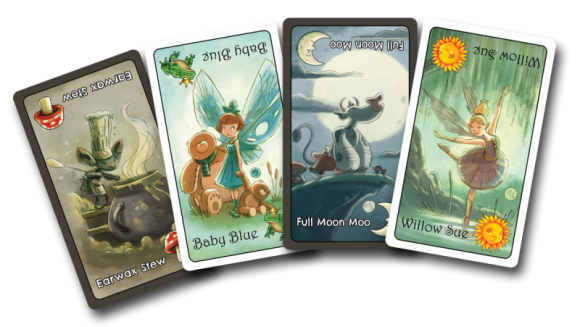 For a long, long time, goblins and fairies have lived in a magical world right beneath our noses. If you look hard enough, you can find rings of mushrooms, called "fairy rings", which act as doors between their world and ours. Today, a gang of mischievous goblins escaped from the fairy ring, and it is up to the players to send them back before they cause trouble! But an ancient spell of rhymes which transforms goblins into fairies and fairies into goblins makes this a trickier task than you might think... Goblins Drool, Fairies Rule!, a card game of rhyme and reason for kids of all ages, is for 2 to 4 players, and has special solitaire rules for a single player. The game takes about 15 minutes to setup and play. The components consist of 20 unique cards, each card having one side representing a Goblin, and another side representing a Fairy. Each side of a card has one of four Symbols: a Sun, a Moon, a Mushroom, or a Frog. The names of the Fairies and Goblins are divided into five rhyming groups, each name ending in one of five sounds.
Add a Review for "Goblins Drool, Fairies Rule!"