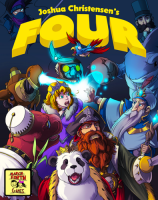 Four
Ninjas, Pandas, Robots and… Secrets Signals!
FOUR is the team-based card game of secret signals. Grab a partner and create a secret signal only the two of you know. Something like tapping the table, winking or using code words like "butter lettuce".
Once you collect 4 of any character (like 4 face punching sharks) signal to your partner to claim the Victory Token! But watch out, if your opponents figure out your signal they can steal the Victory Token for themselves!
Add a Review for "Four"