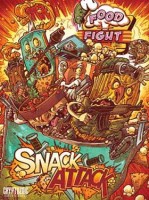 Food Fight: Snack Attack
Atten-SHUN!
Not content to let the main dishes hog all the glory, the soldiers of the Snack Brigade have joined the Food Fight! That's right: it's a Snack Attack!
This add-on pack for Food Fight brings 40 new crispy, salty cards to the table, including two new Snack King mascots and two condiment Instants to add some spice to your game.
Requires Food Fight to play.
Add a Review for "Food Fight: Snack Attack"