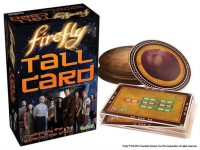 Firefly: Tall Card
Your cries have been heard, Browncoats - straight out of the Firefly 'verse comes
TALL CARD
!
With rules and artwork inspired by the game played on Firefly, TALL CARD will make you feel like you're a fellow crew member aboard Serenity!
Each box includes over 45 cards, including the round 'Tall Cards' as seen on Firefly!
Also included are more than 50 additional cards so you can create your own games and pass the hours away as you drift from planet to planet.
Whether you're just lookin' to kill some time between jobs or you're hoping to trade off some chores, TALL CARD is a must-own for any die-hard Firefly fan!
Add a Review for "Firefly: Tall Card"