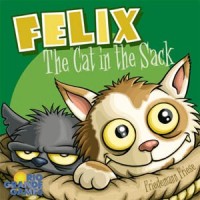 Felix: the Cat in the Sack
Using their mice as bait, the players attempt to grab the famous cat in the sack. Also in the sack are a jumble of both good and bad cats. The players can try to bluff one another by sneaking a dog or rabbit into the sack. At the end of the game, the nicest cats and mice will be worth positive points, while possessing the scruffiest cats will count against you.
Add a Review for "Felix: the Cat in the Sack"