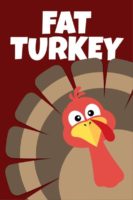 Fat Turkey
Farmer Jack is busy trying to fatten up his turkeys ready for market. As one of the turkeys your aim is to try and keep your weight down and avoid being selected.
Turkeys select cards from the food pile which will add to their weight. The food pile also includes cards such as Weight Loss, Poop and Feed Me which will enable turkeys to shed weight and distribute their food cards amongst other turkeys.
When Farmer Jack is selected from the food pile, the round ceases and the fattest turkey is selected for market and taken out of the game.
A strategic little card game played in rounds until only one turkey survives.
Add a Review for "Fat Turkey"