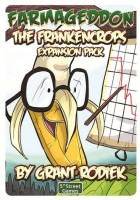 Farmageddon: The FrankenCrops
More variety is great, and that's exactly what the FrankenCrops Expansion Pack offers to players.
With 15 new Crop cards for farmers to fight over, each with a different ability while in play, the FrankenCrops expansion gives players an easy way to spice up their copy of Farmageddon.
FrankenCrops is also compatible with the Livestocked and Loaded expansion.
Add a Review for "Farmageddon: The FrankenCrops"