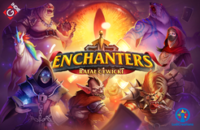 Enchanters
Are you sick of predefined artifacts in your board games?
Forge your own! Merge together dozens of items and powerful spells. Pick them up before your opponents do to upgrade your artifact. Smash approaching monsters and save the village. One artifact to rule them all! Combine spells and items to upgrade your artifact!
15 minutes per player - a short and replayable game!
2 minutes to explain - simple yet deep gameplay!
1 minute to set up - just shuffle and play!
10 second player turns - no bookkeeping, only action!
Enchanters is a fantasy card drafting game. Players take turns to go on quests to take cards from the Journey track. Each one collects Items on one stack and Enchantments on the other to craft a magical artifact. Part of every card taken stays with them until the end of the game. When monsters approach, they journey onward to defeat in a deterministic combat encounter (that takes just few seconds) and score points. From time to time players rest to gain crystals or heal wounds.
Add a Review for "Enchanters"