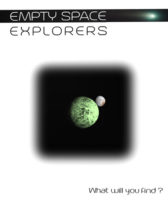 Empty Space Explorers
As you see the exoplanet for the first time, you notice a wetness appear around the commander's eyes. "We've done it," you try to scream, but the words just come out in a whisper as your throat is so dry with excitement. The commander turns to you and puts her hand on your shoulder. "Without your guidance and bravery we would have all perished," she beams at you, "We've done it, we've found the exoplanet!"
The aim of the game is to travel the universe with your space craft to find a habitable Exoplanet and colonize it.
To do this, pick up cards to firstly build your space probe. Your space probe will unveil the universe and you explore it (watching out for black holes) to discover an Exoplanet.
Finally, send a rocket to colonize your Exoplanet to win the game - but watch out, as your opponents will be trying to thwart you and race to victory instead.
Add a Review for "Empty Space Explorers"