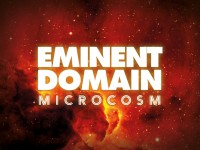 Eminent Domain: Microcosm
Two mighty empires are about to collide. Play your cards right to become the ultimate ruler of this microcosm. You are just ten minutes away from the glory of the universe in your clenched fist ... or the only thing worse than the vast emptiness of space, that cold shallow grave called losing.
And there is only one true, honorable response to losing, "Shuffle these cards up. We're playing again. Right Now!"
The galaxy just got a whole lot smaller...
Add a Review for "Eminent Domain: Microcosm"