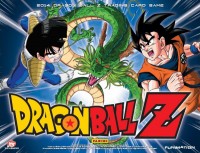 Dragon Ball Z Trading Card Game
From Panini America: Panini America, the leading global publisher of licensed sports and entertainment collectibles, announced... that it is bringing the popular Dragon Ball Z card game back to the market for the first time since 2004.
The 2014 edition features more than 200 new cards, reprints of past fan favorites and is completely compatible with the original series. The new game was developed by Panini America Brand Manager Aik Tongtharadol, a former Dragon Ball Z world champion who also worked on the original Dragon Ball Z Trading Card Game, most recently in 2004. Company officials will preview and demo the game to the public for the first time... during the 2014 Comic-Con International in San Diego.
Add a Review for "Dragon Ball Z Trading Card Game"