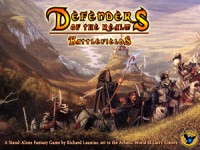 Defenders of the Realm: Battlefields
In Defenders of the Realm: Battlefields, one side takes the role of the Dark Lord's invading army of minions, while the other side represents the heroes defending the Realm from the forces of evil.
The battles are fast and furious as players place minions and heroes onto the battlefields and attack their opponents using a variety of abilities and special skills. Fourteen battlefield cards are included in the game and play begins with three being laid out randomly.

Players take turns playing cards onto one of the battlefields in play trying to build up enough strength to win that battlefield. Each battlefield card bears a special power that the winner of that card receives as a reward. The first side that is victorious on 3 total battlefields or 2 battlefields of the same (non-purple) color is the winner!
Add a Review for "Defenders of the Realm: Battlefields"