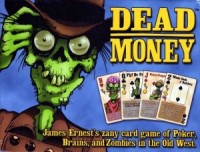 Dead Money
It's the Old West, and you find yourselves working at Friedey's, the watering hole of the damned. You're the last few payers in a poker game you're not allowed to win. Now lose all your money as fast as you can, while everybody else is trying to do the same. Oh, and you'll probably need the Brain.
Take the cast of Give Me the Brain, catapult them into the Old West, and give them eight Brains to fight over. That's Dead Money, a poker-based riff on the Cheapass Games classic Give Me the Brain. Players are Zombies in the old West, trying to get out of town by playing out their entire hands. You've got a lot of work to do, and most of it will require a Brain.
There are eight Brain cards in the deck, and the rest of the deck is Job cards that may or may not require a Brain. Each Job card is also a bidding card: the deck is made of two complete poker decks, and players bid for the Brain by playing complete poker hands. Bidding isn't a great way to get rid of cards, though, because each bid card you play can make you draw one or two more!
Based on James Ernest's award-winning and popular Zombie card game series, with all-new, full-color artwork from Brian Snoddy. Solid and hilarious game play: familiar, but with several new twists.
NOTE: James Ernest has written a short article on understanding the game here, including an erratum due to a card that can break the game for a player.
Add a Review for "Dead Money"