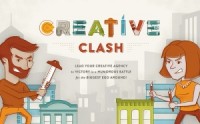 Creative Clash

A game of satire for 2-5 players
Have you ever wondered what it would be like to be a hot shot creative in an advertising agency or a graphic design studio? Take on the role of Principal of your own creative agency, hire Employees, complete Projects, buy cool Stuff, and sabotage your friends with Event cards. The first player to reach their Ego goal is declared winner!
How to Play
Creative Clash is incredibly simple to play. Each turn is comprised of several phases where players collect income, draw 2 cards, and then play as many cards as they like. Play continues until someone reaches the Ego goal on their Principal card.
Add a Review for "Creative Clash"