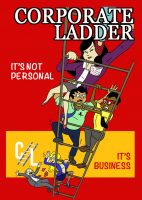 Corporate Ladder
Become CEO by tricking your coworkers!
It's a fight to the top! Which path will you take? With each turn, use honesty and teamwork to get ahead or reveal yourself to be the cold, calculating, opportunistic backstabber we all thought you were. Work a corporate job in this satirical world where the only way out is up. Only one employee can become CEO!
Add a Review for "Corporate Ladder"